First Place Inc. Welcomes Back Our 2013 Work and Travel Participants!
Quezon City, NCR - September 10, 2013 - Students of more than 20 different Philippine colleges and universities returned home earlier this year from the United States, now young professionals with cultural exchange experiences and successful career training. As First Place gears up once more to prepare a new batch of Dreamers for our 2014 program, we received both valuable insights and heartfelt accolades from our participants.
"This Work and Travel program really helped a lot in making me a much better person. They helped build a better me by making me learn how to be independent, and by showing me the meaning of true hard work. I would say that this has been a once-in-a-lifetime experience for me, because I met new friends, learned new culture, and traveled to different places in the United States of America. Thank you FPI for making me 'Live my Dream'! :)"
- Catherine Cabanes from St. Anne College Lucena Inc., 2013 WAT participant with the Holiday Inn of North Padre, Texas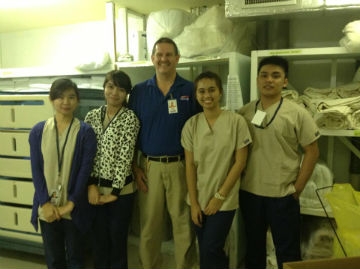 "Please keep it up, First Place! Keep doing the great job you've been doing because a lot of people have changed for the better thanks to your program!"
- John Daniel Sanchez from Centro Escolar University, Manila, 2013 WAT participant with Brett Robinsons, Alabama
"I enjoyed the program. Everything went smoothly, from my travels to my work experiences. I learned a lot from this program, thank you!"
- Calvin Hart Alvarez from Liceo de Cagayan University, 2013 WAT participant with Landry's Inc. Bubba Gump Shrimp Company, at Pleasure Pier, Galveston, Texas
First Place Inc. would also like to thank our partner schools, school coordinators, and host companies for helping these students' dreams become a reality. As FPI continues moving forward into a more interconnected age of cultural exchange, we are also maximizing support for new applicants through online platforms such as http://facebook.com/fpiph and http://firstplaceinc.org. Every day we will be featuring student videos and images on our Facebook, and conducting free orientations throughout the month of September.
Since 1999, First Place Inc. has served as the Philippines' premier career and education counseling organization. As a recognized program partner of the US State Department, our annual cultural exchange and internship opportunities have introduced thousands of Filipino students to professional life and career development abroad. First Place is a member of the WYSE Work Abroad Association, and a sector association member of the prestigious World Youth Student & Educational Travel Confederation.
Other News