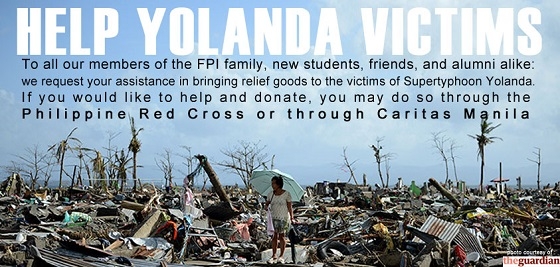 To all our members of the FPI family, new students, friends, and alumni alike: we request your assistance in bringing relief goods to the victims of Supertyphoon Yolanda. If you would like to help and donate, you may do so through the Philippine Red Cross, or through Caritas:

http://ushare.redcross.org.ph/

http://www.caritas.org.ph/Call-To-Action/about.html

We will also be setting up donation boxes in both our Manila and Cebu offices, and ensuring that 100% of all donations will be transported safely to both Caritas and the Philippine Red Cross. The following donations will be accepted (no cash, please):

Clean and wearable clothes

Purified bottled water

Basic medicines (flu tablets, antibiotics, multivitamins, first aid kits, antiseptics for wounds)

Food supplies (Canned goods and dry goods. Please provide cans that can be opened without needing a can opener. Kindly avoid rice and instant ramen, as most sites on the ground have no power or water to cook with. Packaged loaves of bread would be ideal.)

Powdered baby formula (In cans or boxes. Again, please provide cans that can be opened without needing can openers, if possible.)

Our UP office is located at Room 204, Bahay ng Alumni, U.P. Diliman, Quezon City. Our Cebu office is located at Zeraus Building, Gorordo Ave., Cebu City.

Remember that no help is too small. Let us pray for all the victims of the storm, onsite rescue workers, and for our whole nation.
Other News