ENTER THE FPI 2014 VIDEO CONTEST!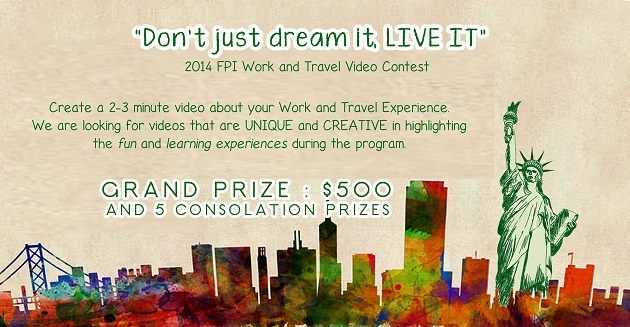 Enter the First Place Inc. 2014 Video Making Contest with the theme: "Don't Just Dream It, LIVE IT!"

MECHANICS:

⦁ Upload your video to youtube.com, then email the link to inquiry@firstplaceinc.org. Make sure to also call and inform your programs counselor directly regarding your submission.

⦁ For tips on encoding and formatting, read here: https://support.google.com/youtube/answer/1722171?hl=en

⦁ Additionally, also send us your original video file by sharing it through Google Drive. Email it to us at inquiry@firstplaceinc.org with the message, "FPI 2014 VIDEO CONTEST ENTRY."

⦁ Only one entry is permitted per WAT 2014 participant.

⦁ All entries must be in English. Videos in other languages (even with translations) will not be accepted.

⦁ Video presentation's message must be easily understood with or without audio, and we encourage you to use subtitles.

⦁ Videos must not be longer than 3 minutes.

⦁ By submitting your video, you are authorizing First Place Inc. and/or our partner organizations to use your footage and/or name in our contest promotions and accompanying materials.

⦁ All valid entries will be shared on our Facebook page and website, and you will be notified.

⦁ The winning video will be announced and shown in the upcoming General Assembly for the US 2015 Work and Travel season.

GRAND PRIZE: $500

Plus additional runner-up prizes!

All submissions must be accompanied by an email to First Place Inc., noting your first and last name, visa sponsor and host company, along with the title and a link to your video.

Deadline for entries: August 31, 2014.

The winner will be notified on September 8, 2014.

CRITERIA:

30% Content

30% Uniqueness and Creativity

20% Social Media Engagement - get as many people as possible to like your video, once we upload it on our Facebook page!

20% Production Values and Overall Video Quality

Call us now for more information at (02) 9279731!
Other News